ANNOUNCEMENT !!!
Adults of all ages, colors, sizes, shapes, identity & orientation.
Are you ready to transform Confusion info Clarity and Pain into Peace?
We welcome you to courageously walk this journey with us!
Warrior Heart Practice
8 Week Series
The Warrior Heart Practice is one of the most efficient, practical, and doable methods of inner cleaning you will find. During these uncertain times, we need to step into what is certain, true, and within our ability to connect with as we start to create a new "normal".
In this 8-week transformational series, GCCS will guide you through the fundamental body-mind-spirit skills and competencies you'll need to access Toltec wisdom and practices to clear false beliefs, release old stories, and realign with your true purpose.
You'll connect with GCCS and experience these teachings through live streaming video using ZOOM. This is structured to be a weekly group therapy session.
What You'll Discover in These 8 Weeks:
1. Dig deeper into each of the 4 chambers–Feeling, Story, Truth, & Intent.
2. Identify the ways you exit your emotional body and how to courageously face your emotions–and free up energy and joy.
3. Explore what a "tangled story" is and how it's causing you to suffer in your relationships.
4. Learn an awareness practice called Stalking Yourself to help you witness thoughts, energy, emotions, and physical body without judgment.
5.Practice how to name the Truth–and identify how it feels as the Truth lands in your body.
6. Shifting away from agreements or stories that no longer serve you.
7. Get clear on your inner Intent– and exactly how it guides actions you haven't taken yet.
8. Walk back through ALL the chambers & apply them to your life to help- it's a practice, not an event.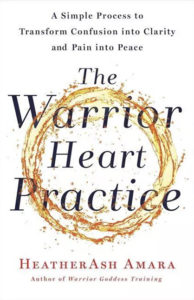 GCCS utilizes the teaching learned from various modalities including the Warrior Heart Practice Training and mentorship of HeatherAsh Amara,
the ground breaking Facing Codependence model of Pia Mellody and the
Felt Sense rediscovery work of Somatic Experiencing by Peter Levine.
Warrior Heart Practice 8 Week Series for Women
Wednesday, July 29, 2020 4pm – 6pm (CST)
Workshop Location:Online via Zoom from Houston, Texas
(A Zoom invitation will be sent to you once registered)
Price: $210 for the full 8 part series. One time fee.
Special Discount: $190 if you sign up by the end of the day, July 22nd. One time fee. Special Discount will close at midnight.
Workshop presenters:
Jeanna Gomez, LCSW, LADAC, CPC, SEP, BASE-P
Warrior Goddess Leadership Team and Warrior Heart Practice Training Facilitator
Sarah Gallup, LPC, Brainspotter
Warrior Heart Practice Facilitator